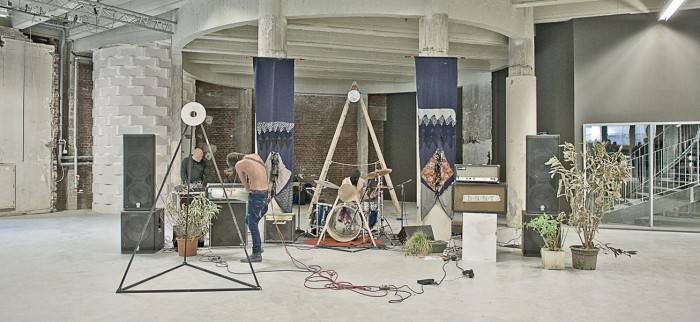 BNNT
performance crew
2007 - ongoing
____________________________________________________
BNNT are audio performances by Konrad Smoleński and Daniel Szwed, which are held in open public spaces of a city, or in the institutionalised spaces of galleries and festival venues. The band members travel in a van which serves them as an improvised stage where they perform in balaclavas or masks. Each performance involves a sonic attack with the use of a string instrument modelled on the Tomahawk missile (Konrad Smoleński) and a drum set (Daniel Szwed). This is an interdisciplinary project involving both public performance – the so called sound bombing – and publishing activity, which the duo have run for a few years now.
for more informations go to:
WWW.BNNT.PL
____________________________________________________
"(...) BNNT themselves are more of an art group than a music one, even the instrument played by group co-founder Konrad Smoleński is called "baritone missile", which literally looks like a missile with strings. Fucking brutal. This brutality is reflected perfectly on their debut studio album, with relentless bass slapping and amphetamine madness on the drums. The songs have little, if any structure, often straying from the main "theme" after a short time into a wall of feedback and random strumming in the vein of Dead C or Harry Pussy, except addled with much more drugs and even more amplified than their forefathers. There are occasional spoken word pieces and vocal samples thrown into the mix and an inexplicable angelic drone will sometimes find its way into the harsh reality (see what I did there?) of this black hole of an album.
The duo come are afiliated with the Poznań label Pink Punk, famous in its home country for their rebellious and forward-thinking take on outsider rock genres, with a special focus on noise rock. BNNT are one of the most extraordinary bands to come from the whole Pink Punk thinktank, both in the image - because you never know what they're gonna do or when you're gonna end up in the middle of their gig, it's so exciting) and the blackened wall of nihilistic guitar sounds ornamented with sound bites from such weirdo movies as Harmony Korine's "Trash Humpers". (...)
>>> Jakub Adamek / Weed Temple